Three phases of learning – our training methodology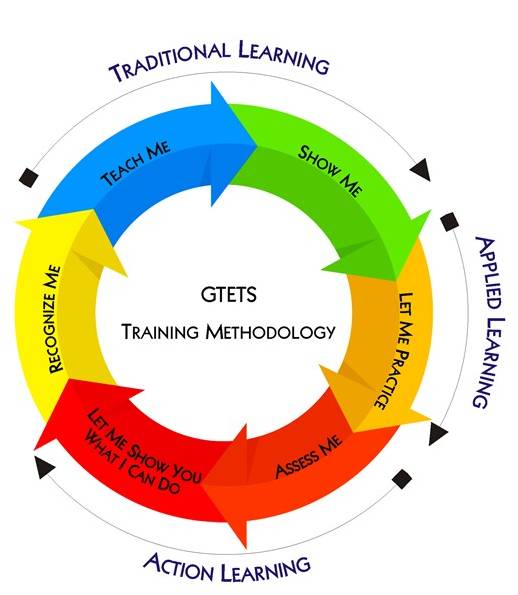 PHASE I: TRADITIONAL LEARNING
1
TEACH ME
Traditional learning methods of building a function for the course which involve development of trade spacific knowledge, literacy, numeracy & technical skills.
2
SHOW ME
Learning through pratical demonastion in workshop or work environment where trainees will observe tasks and procedures being completed, making notes along the way and understand SOPs.
PHASE II: APPLIED LEARNING
3
LET ME PRACTICE
As the saying goes… pratice makes perfect! Industry specition machines & production environment for hands on learning and working on the pratical elements of doing the job.
PHASE III: ACTION LEARNING
4
ASSESS ME & TELL ME HOW I AM DOING
Assement is a continues process with daily assesment of pratical learning on dimensions of accuracy, process & time taken.
5
LET ME SHOW YOU WHAT I CAN DO
Traines turn to demonstrate learning and independently pratice the learning from doing jobs & pratical while producing a good or service of social-economic value in a live production environment.
6
RECOGNIZE ME
Skill championship to build competative spirit and recognize the high performers of each batch, Independent IIIrd party assesment through sector skill councils or NCVT for final certification of a new "professional".
6
Enterpreneurial Skills:
Encouraging students to gain hands on experience & through live production & incubating them to become nano/mini/micro enterpreneurs.
5
Life Skills:
Abilities for adaptive and positive behavior that enable individuals to deal effectively with the demands and challenges of work life & employement like IT literacy, financial planning for self and family, health, hygiene & sanitation.
4
Professional skills
The key behaviors, actions and thinking processes necessary to build a successful carrer like values, ethics, integrity, teamwork, communication, planning, time management & leadership etc.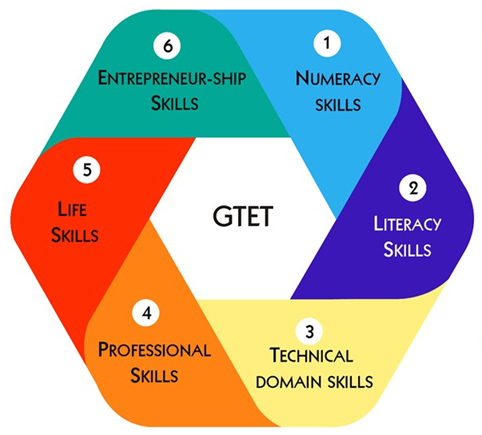 1
Numeracy Skills:
Ability to use mathematical understanding and skills to solve problems and meet the demands of the job e.g. workshop measurment, calculation & basic arithmetic.
2
Literacy Skills:
Capacity to read, understand and appreciate various forms of commucation including spoken language, printed text and digital media required for the industry & trade.
3
Technical domain skills
Trade specific technical or core knowledge & pratical skills required for expertise in a trade.
End State: Career pathing through lifelong learning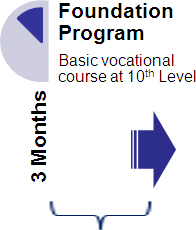 10th Pass youth mobilized from rural areas Foundation Course as per curriculum followed by on the job training opportunity with industry partner
Alternate pathway for 10th Fail through NIOS

Work Integrated Learning
Through a combination of:
Contact Classes @ training room in factory or near the hostel
e-learning/self learning through content developed by Gram Tarang
Practical- job work in workshop or nearby ITI identified by Gram Tarang
Assignments, Presentations
On the job training & job appraisal
Assessments & Certification conducted by
DGT for ITI level (Level 3 & Level 4)
Centurion University for Diploma/Advanced Diploma & B.Voc. as per UGC guidelines under DDU Kaushal Kendra scheme