Inauguration of Yamaha Motors
GIn the premise of Gram Tarang Employability Training Services Pvt. Ltd (GTETS), a social entrepreneurial outreach of Centurion University, India Yamaha Motor Pvt. Ltd, on 13th January, 2015 marked the inauguration of its first Yamaha Training School (YTS) to promote and encourage the economically weaker youth to become self-reliant.
Present at the event, Mr. Masaki Asano, Managing Director, Yamaha Motor India Sales Pvt. Ltd. Said: "At present, there is a huge skills gap in the industry as it heads toward an expansion drive. On the other hand, a large number of unskilled youth are pushed towards unemployment which is a hindrance to any nation's development. This partnership is meant to address this very concern by providing a platform to the economically weaker and unemployed youth to obtain a job oriented technical training in two-wheeler repair and servicing that meets industry standards. Upon successful completion of the course, the students will receive a certification by Yamaha Technical Academy at Silver level and Gram Tarang Employability Training Services Pvt. Ltd, Bhubaneswar that will help them to find a suitable employment."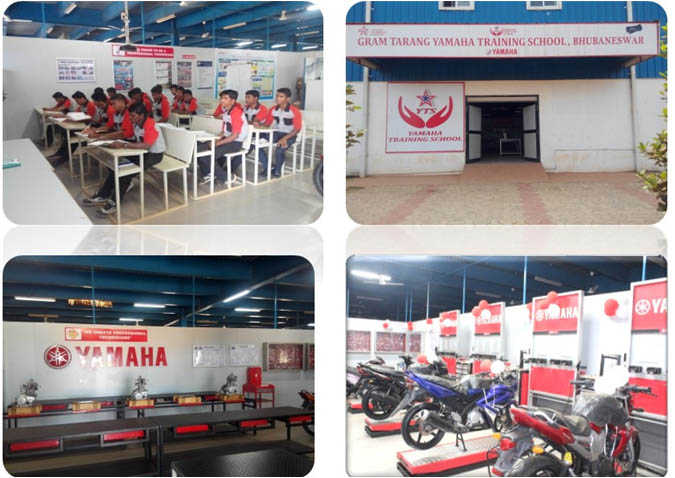 Speaking on the occasion, Mr. Ravinder Singh, Vice President, Strategy and Planning, Yamaha Motor India Sales Pvt. Ltd. said "As a recognized considerate industry player, we shoulder the responsibility to empower the economically weaker sections of the society especially the youth. We have incorporated many programs in our annual calendar to make a lasting impact on the lives of these young people by making them self-reliant. We signed an MoU with Gram Tarang Employability Training Services (GTETS), Bhubaneswar, Odisha in October 2014 to develop a synergetic partnership and thereby helping deserving students find employment in the automobile sector via impartment of technical training and education. We certainly foresee recruitment opportunities for them at our own dealerships as this will help our dealers in getting quality trained manpower for their business."
Prof. Dr. Mukti Kant Mishra, President Centurion University of Technology & Management & Chairman GramTarang Employability Training Services Pvt. Ltd. was very pleased having Yamaha Training School (YTS) in the Gram Tarang premise and he said that Gram Tarang Yamaha Training School aims to create a "Centre of Excellence" where the youth will receive 2-wheeler technical training that will enable them to become expert 2-wheeler technicians. Thereafter, they could be employed gainfully at Yamaha Dealerships and become productive members of the society. Technical experts from Yamaha Motor India Sales Pvt. Ltd. are conducting the YTS program on behalf of India Yamaha Motor Pvt. Ltd.
About the Project
The Government of India has set an ambitious target for providing skill training to 500 million of its youth by 2022, which in line with the estimated demand for skilled manpower over the next decade.
Deen Dayal Upadhyaya Grameen Kaushalya Yojana(DDU-GKY),the skill training and placement program of the Ministry of Rural Development(MoRD), occupies a unique position amongst other skill training programmes, due to its focus on the rural poor youth and its emphasis on sustainable employment through the prominence and incentives given to post-placement tracking, retention and career progression.
DDU-GKY follows a 3-tier implementation model.The DDU-GKY National Unit at MoRD functions as the policy-making,technical support and facilitation agency. The DDU-GKY State Missions provide implementation support; and the Project Imlementing Agencies(PIAs) implement the programme through skilling and placement projects. In the line with NSQF, DDU-GKY mandates independent third party assessment and certification by assessment bodies empanelled by the NCVT or SSCs.
Project details
| | |
| --- | --- |
| Sanctioned Project No. : | J-17013/10/2014 |
| Project Duration : | 2 Years |
| Total Target : | 4000 |
Trades available
Sewing Machine Operator
Retail Operations
Fitter & Industrial Helper
Advance Machinist
Customer Care Executive
Customer Care Executive& CNC Operator
SPA Therapist
Welding Technician Level 3
Districts Covered
Jorhat
Bangaigaon
Cachar
Sonitpur
Barpeta
Baska
Dhemaji
Darrang
Dhubri
Dibrugarh
Goalpara
Golaghat
Hailakandi
Kamrup
Karimganj
Lakhimpur
Morigaon
Nagaon
Nalbari
North Cachar Hills
Sivasagar
Tinsukia
Udalguri
Important Contacts

Location
Contact No
Guwahati
7086058904
Chabua
7086058905
Bangaigaon
7086058906
Silchar
7086058907
Tezpur
7086058908
Toll Free No.
1800 2000 333