Gram Tarang – TATA MOTORS Partnership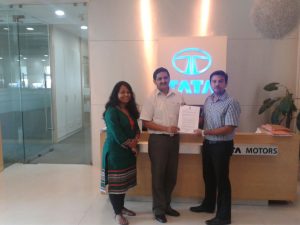 An agreement is made at Mumbai on 20th of September 2014 between TATA MOTORS LIMITED and Gram Tarang Employability Training Services, which aims to start Driver's training in Jatni & Parlakhemundi and later do a 1 year course for Auto Service Technician, where 3 months is on Campus and 9 months is in Tata Motors Service Dealership in a Work Integrated model.
Gram Tarang sees itself as a valuable training partner of TATA MOTORS in its endeavor to up the initiative for providing Driving Skills and Motor Mechanic training to rural youth. This initiative will work closely with interested dealers, transporters, fleet owners and other channel partners of TATA MOTORS to facilitate absorption of these youth wherever possible.
The program will start in 5 Centers (Jatni, Parlakhemundi, Jamshedpur and 2 more) for training candidates in Driving and MMV trade. TATA MOTORS will provide ToT to atleast 10 of our trainers for Driving Training.